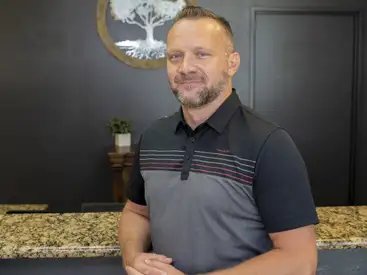 Meet Dr. Christopher Butler, D.C. who has been around chiropractic care his whole life. He used to head to his grandpa's and first thing he wanted to do was get adjusted. Now he is the one doing the adjusting whether it is a newborn baby, an infant with colic, a toddler with an ear infection, children, high school athletes, a driver in a car accident, a worker with back pain or his 90 year old grandma - he loves to help individuals, families and the community heal their body, mind and spirit.
He believes in the entire body and mind approach to chiropractic, adjusting the patient from head to toe, while helping them process stress and challenges that impact their health. Learning the profession in chiropractic school while starting his family gave him the opportunity to "practice" on his 4 boys instilling in him a deep commitment to family wellness. In 2002 he had the opportunity to learn under the inventor of kinesio tape and uses this knowledge and application in his office to aid in healing.
He brought his skills originally to Heber, Arizona in 2004 where his practice quickly grew. He then moved to Pine Top, Arizona where many a high school athlete has benefited from free pregame adjustments! Moving to the valley brought the opportunity to work on college and professional athletes as well as visit Senior Communities. In December of 2014 Dr. Butler bought and began to grow this practice here in San Tan Valley where he plans to stay for years serving and caring for this community. Dr. Butler believe that chiropractic care is the first line of defense and hopes to work hand in hand with doctors to encourage total body wellness. He continues to be inspired by involvement in stories of healing, viewing first hand all of the ways chiropractic care heals and blesses people's lives. Dr. Butler truly cares and his patients know and feel that.
In August of 2018 Dr. Butler, D.C began certification with the American Academy of Motor Vehicle Injuries. Dr. Butler and Janny attended classes monthly to acquire knowledge necessary to treat your body and guide your case. In May of 2020 he completed his certification, using all he has learned to help those who are experiencing the trauma of a car accident. Dr. Butler will never stop learning and bringing new ways to aid in your healing!